Cydia has not been updated to accept tweak purchases on BigBoss for iOS 10.2.1+..
Please use this tweak & spoof your device to be "iPhone 6s running iOS 10.2" to purchase. Ensure to only install a tweak once a developer has confirmed compatibility with your device & firmware version!
MakeCydiaBuyAgain - Enable Cydia to purchase any package on any version of iOS and device that is "not supported"
https://jakeai.github.io/
Compatible with iOS 9, 10 and 11
PRESERVING BATTERYLIFE AND OTHER FEATURES OF AE+
AE+ isn't all about preserving your BatteryLife! Although this is the main feature...
AE+ is also great for allowing you to have an uninterrupted day at work, or if you want to curb your iDevice usage habits!
You can set Airplane ON, except 5 minutes each hour, just for emergency etc to receive notifications and VMs, (and know you're saving plenty of battery also!
Remember AE+ including 3 profiles each with a FlipSwitch, the usage is limited by your imagination only! 1 for Work, 1 for Holiday & 1 for Conservation of Battery.
Updated and tested for iOS 9-9.33 & iOS 10.

Also available, a [free][lite] version Airplane Enhancer

DEVICE COMPATIBILITY:
All devices running iOS 9 and 10 or later

Apple has produced brilliant products, I always feel that I'd like the battery to last longer each day, and the iPhone to have a longer life in general!

In my experience, the only way to truly save your BatteryLife of your iDevice is to use it less! Turn it off... But we need it daily! If you can't turn it off, Airplane Mode is another option.

Apple has inadvertently allowed a fantastic technique for lowering the use of your battery, Airplane Mode. If you Google "Airplane Mode Battery Smartphone" you will find many reports, not only for iPhone, but any smartphone about people highlighting the effectiveness of Airplane Mode on BatteryLife. It limits your device from connecting with the outside world, no radios trying to connect Bluetooth or Wifi & cellular data off (in Apple's way).

Airplane Mode is fantastic, but, Airplane Mode enabled means no radios connected, which means no phone calls, messages or other notifications will be received. And it's not easy to disable Airplane Mode quickly if you just need to quickly make a call, send a message or use any other app, and enable Airplane Mode again....

That's why we designed AirplaneEnhancer+!

AirplaneEnhancer+ gives you the opportunity to choose what times of the day you would prefer Airplane Mode to be enabled, and quickly disable it when you lock your iDevice!

Known issues are minimal, due to iOS limitations and not applying to all users, but please consider these before choosing to purchase:

1. As AirplaneEnhancerPro is designed around the standard Low Power Mode, you may experience a small lag when returning from Deep Standby.
2. On devices that didn't allow Landscape rotation as a standard feature, you may experience some lag when rotating from portrait to landscape or vice versa.

How to use?
Please refer to the attached pictures...

1. You can choose any app to be able to disable Airplane Mode when opened.
2. Use the "schedule" to set up when you wish Airplane Mode to be active or de-active.
3. Use the "profile" to allow one of the 3 profiles to be active.

What's included?

1. A FlipSwitch to enable/disable the tweak.
2. 3 FlipSwitches, one for each profile.
3. Complete Activator integration.

Suggestions for operation:

1. Use Profile 1 for general use, Profile 2 for weekend use, and Profile 3 for special use.
2. With Profile 1 active, set your schedule to allow Airplane Mode disabled for 5 minutes then enabled for 55 minutes, and continue this for the whole 24 hour schedule, this will allow you to receive notifications on a 1 hour maximum delay!
3. Make sure to disable "Also toggle LPM" if you plan to use LPM while not on Airplane schedule.

Please note, AirplaneEnhancerPlus only uses the iOS standard features, unfortunately, we are yet to find a way to improve better than what Apple's engineers have allowed through iOS!

Contact us for support:
Email support RJTweaks@outlook.com
Twitter @iJoelPeterPage @RBTdigital

Check the review by iDownloadBlog

Pre-made profiles to save time
Download here

Import to Filza (iFile).
Extract .plist to PREFERENCES
Replace existing com.rjtweaks.airplaneenhancerplus.plist in PREFERENCES
Go to iPhone settings/Airplane Enhancer+

There is now 3 basic profiles to use without needing to make your own in Airplane Enhancer+ settings.

Profile 1 is Airplane Mode on except the first 5 minutes every hour.

Profile 2 is Airplane Mode on between 19:00 & 07:00, except off for 5 minutes every hour.

Profile 3 is Airplane Mode on except lunch breaks etc, but still OFF 5 minutes every hour to get notifications.

I generally think Profile 2 is the best to use (with LPM always ON)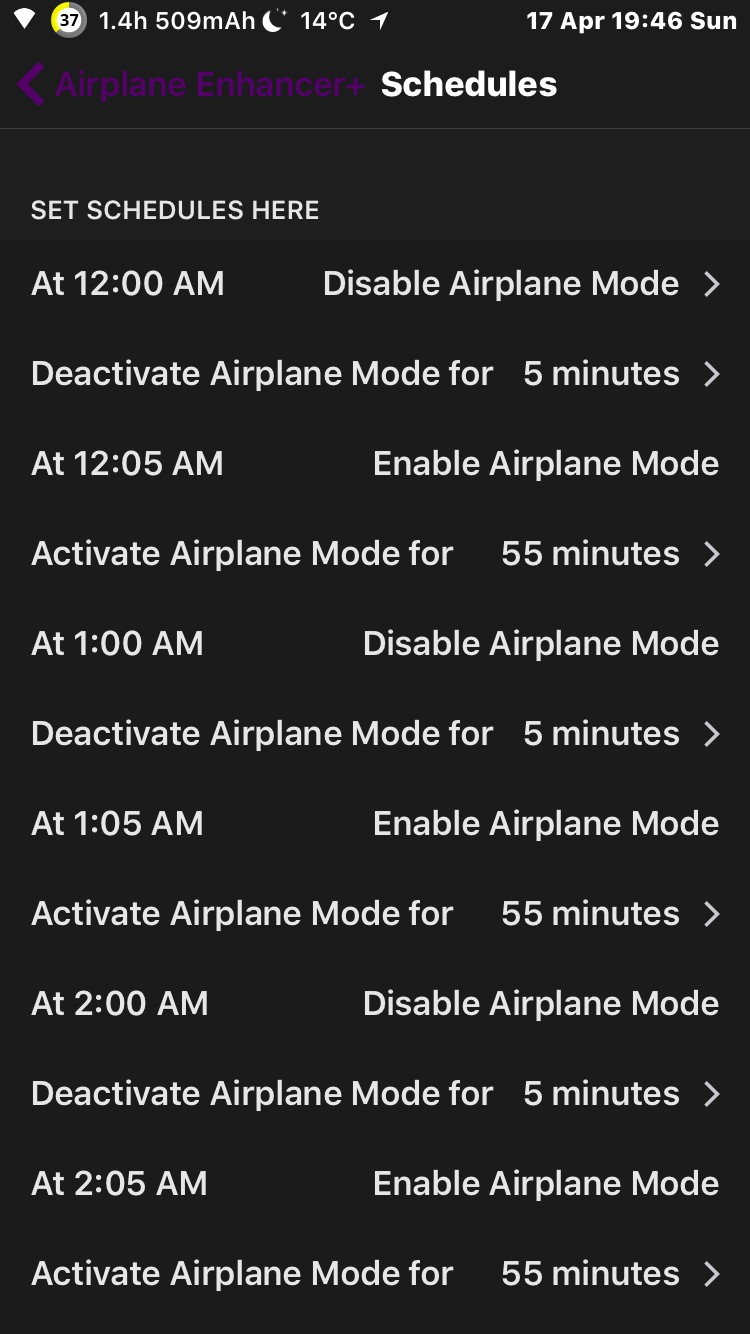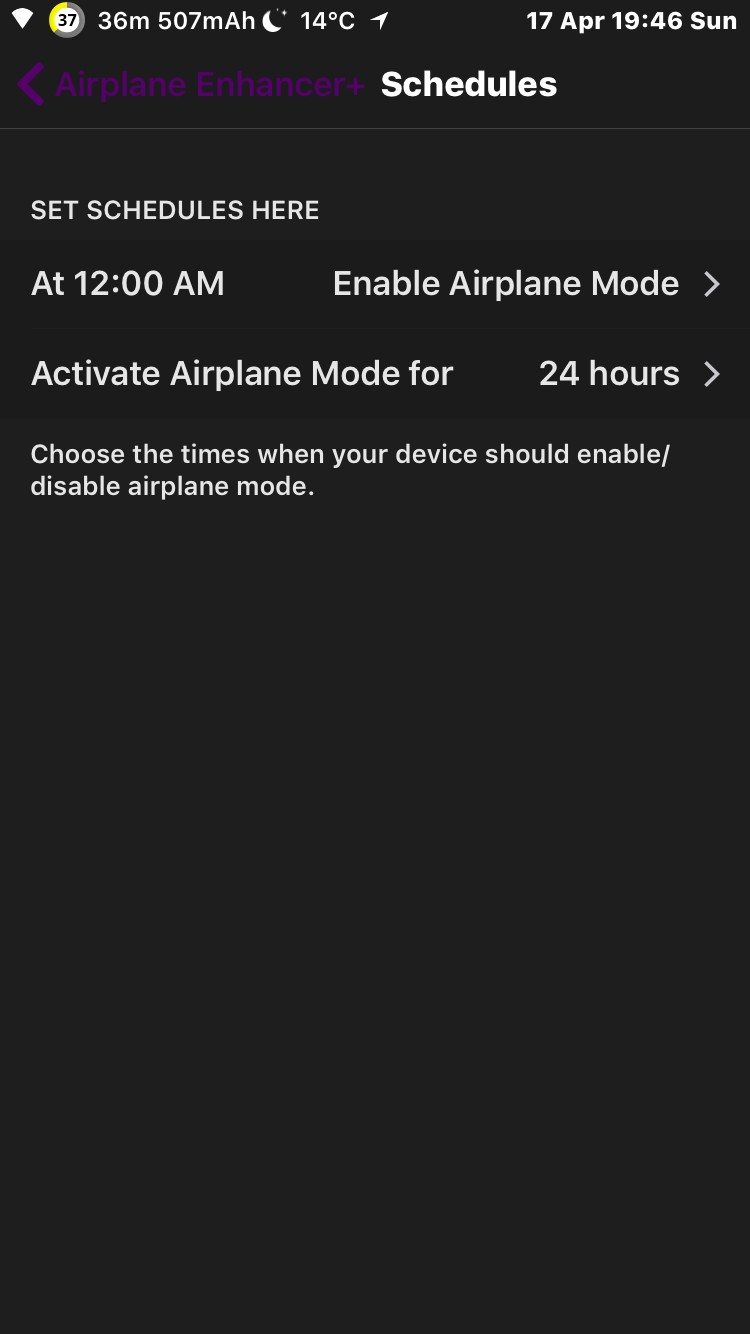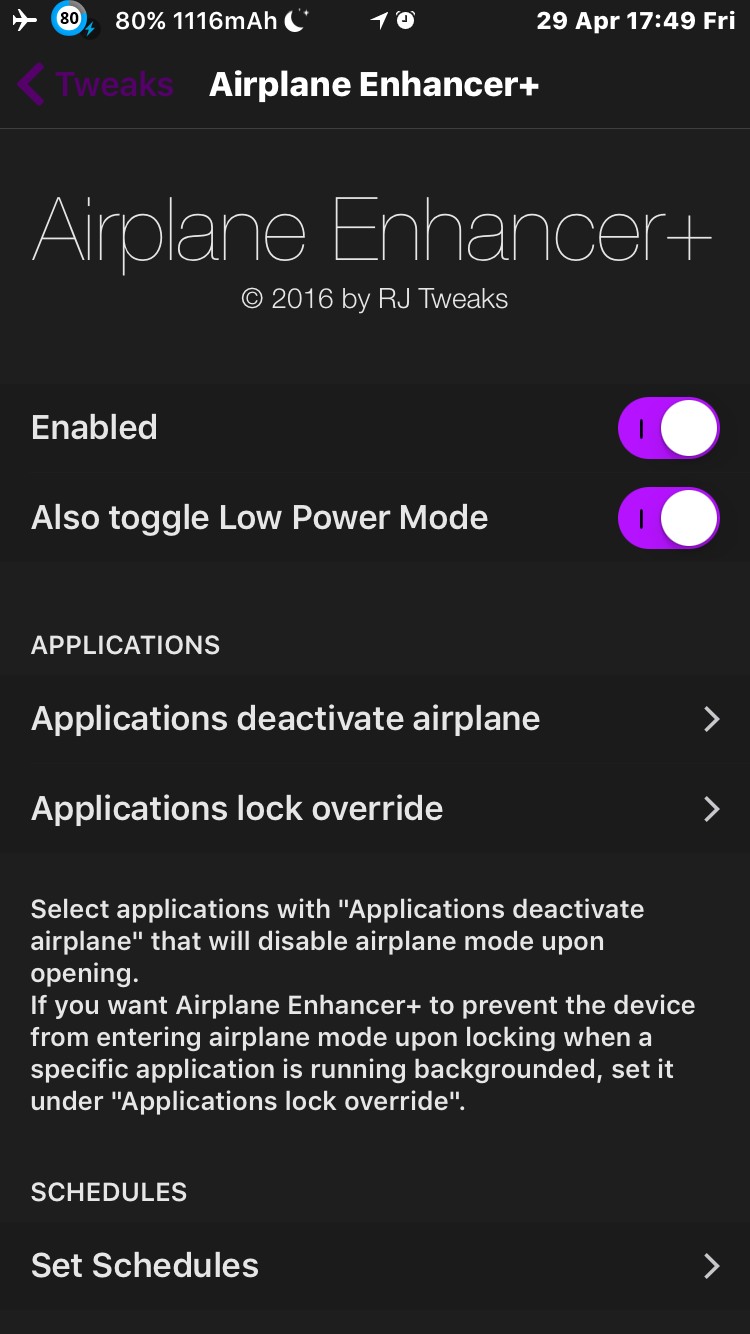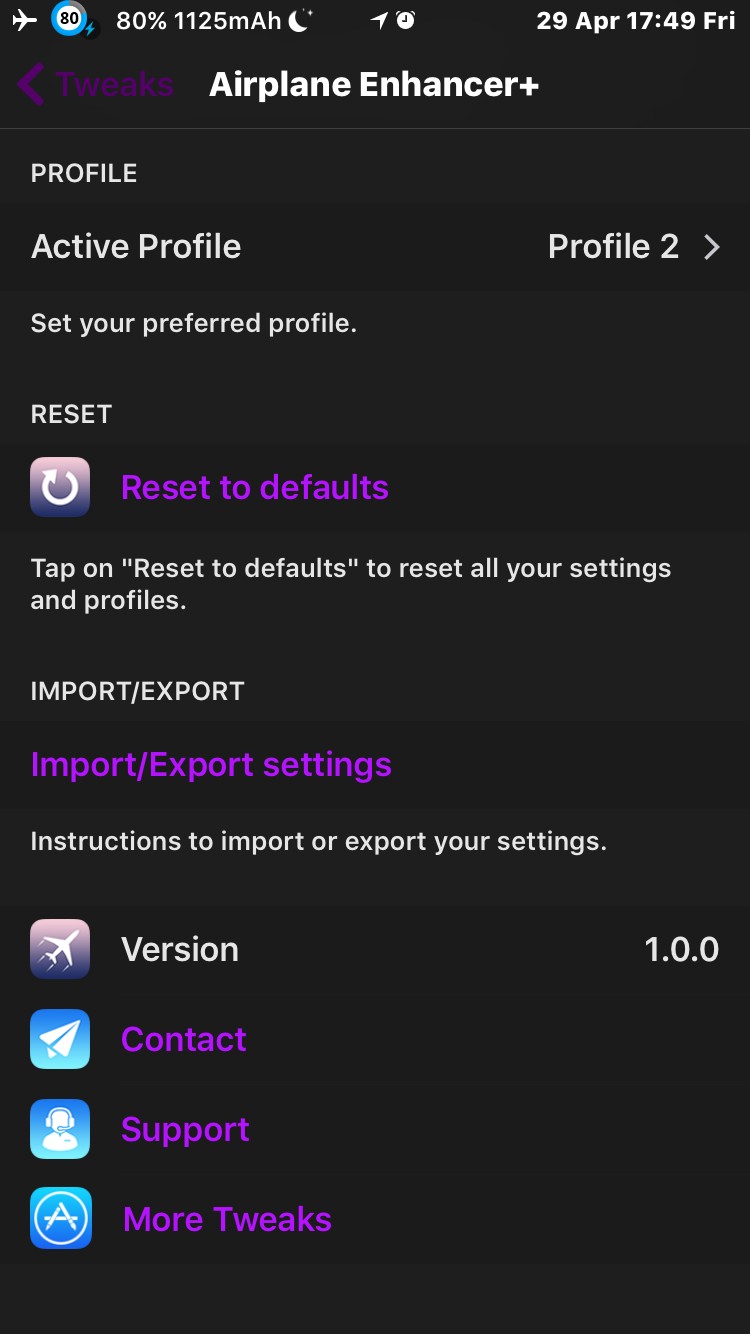 Advertisements