Supports iOS 8 to 9.3.3

AnsweringMachine!

Receive voicemails on device!

As seen in 9to5mac

"Even if you aren't into jailbreaking, you have to admit that this is an impressive tweak"
—@JeffBenjam of 9to5mac


Don't call your provider any more for missed or declined calls!

AnsweringMachine handles your voicemail, bringing tons of first-seen features!

Voice Recognition, DTMF (Touch-Tone) Commands, Speech Synthesizer, Call-Screening and Real-Time Interaction are just a few of the features you get!

This brand-new tweak uses all currently available technologies (and not only) to bring you the Ultimate AnsweringMachine on your phone:


- Voice Recognition of the recorded voicemails brings you text version of the recorded voicemail in real time! In all iOS available dictation languages!

- Native Notifications of newly recorded voicemails upon completion.

- Record your own greeting or use system's voice like Siri to dynamically greet your callers using their name from your contacts automatically, with spoken text that you specify! You can even skip recording any greetings!

- Assign dynamic greetings for everyone or per contact independently! Either recorded or with System's Voice!

- Call-Screening. Listen to what the remote party is saying while leaving voicemail without answering the call!

- Pick up the call if you wish while they are leaving you a voicemail and talk to them, or let them continue leaving you the voicemail without knowing you are around!

- Call UI is suppressed while they are leaving a voicemail so you can continue what you were doing. You can still pick up the call or decline it if you wish at any time!

- DTMF (Touch-Tone) Commands allow you to call your phone remotely and listen to your messages, mark them as heard or delete your messages! With localisable menu voice in your own language!

- Advanced DTMF (Touch-Tone) Commands allow you to perform actions on your phone remotely! You can request it to send you its location to the number you're calling from, even if WiFi or Location Services are disabled! Life saver if you've lost it and it has no internet access!

- Remote access using DTMF is passcode protected!

- Redirect all calls to AnsweringMachine when "Do Not Disturb" is enabled. Optional.

- Telephony and FaceTime Audio calls are handled!

- All options customisable in Settings.

This tweak will show off what your iPhone can do when it comes to audio, speech and voicemail handling!

Already compatible with AudioRecorder and CallBar.


Enjoy!


Limitations:

- Voice Recognition of the received voicemail requires iOS 9+.
- DTMF (Touch-Tone) commands might not work over LTE Voice, since some providers are blocking them. Switch off LTE Voice in Cellular settings.
- This tweak will not record voicemails when the phone is turned off or offline, obviously!
- Supported devices are iPhone 5, iPhone 5C, iPhone 5S, iPhone SE, iPhone 6, iPhone 6 Plus, iPhone 6S, iPhone 6S Plus.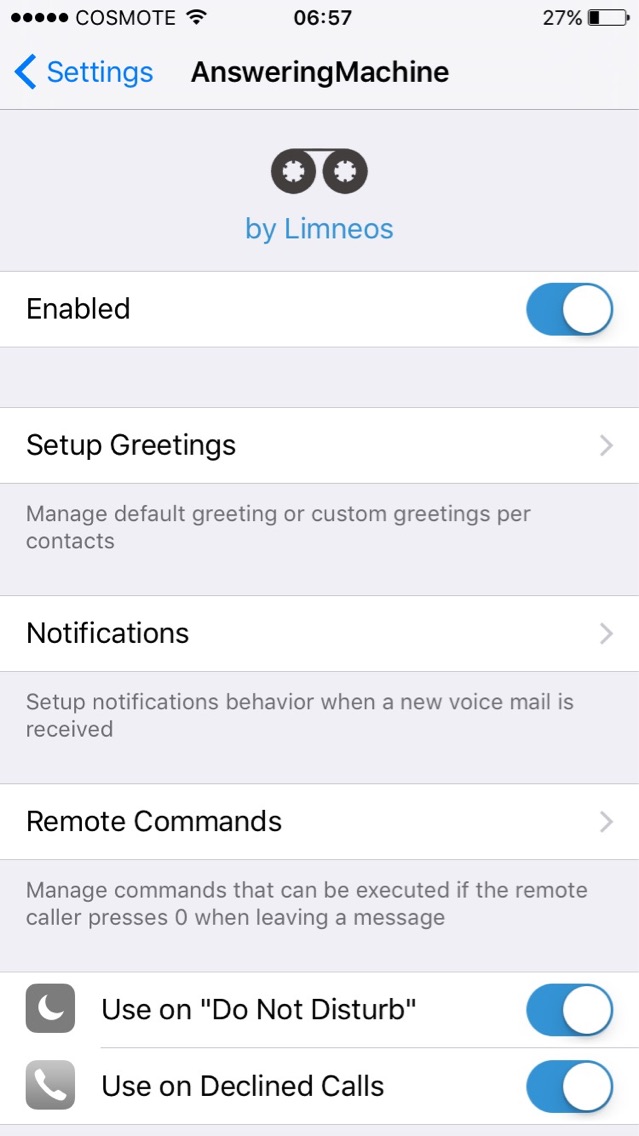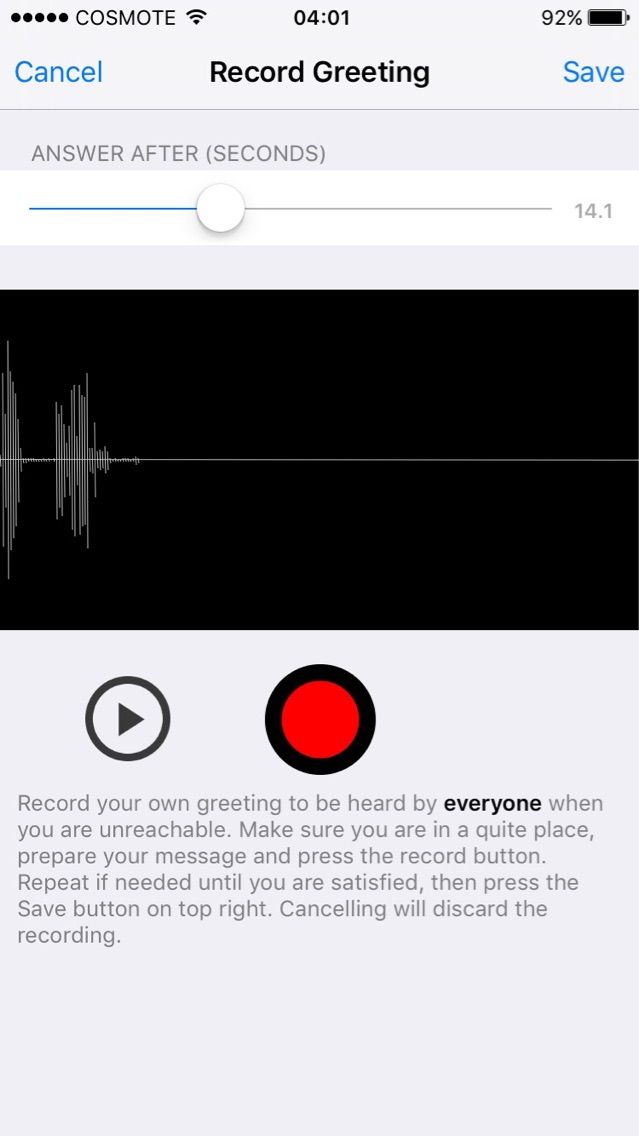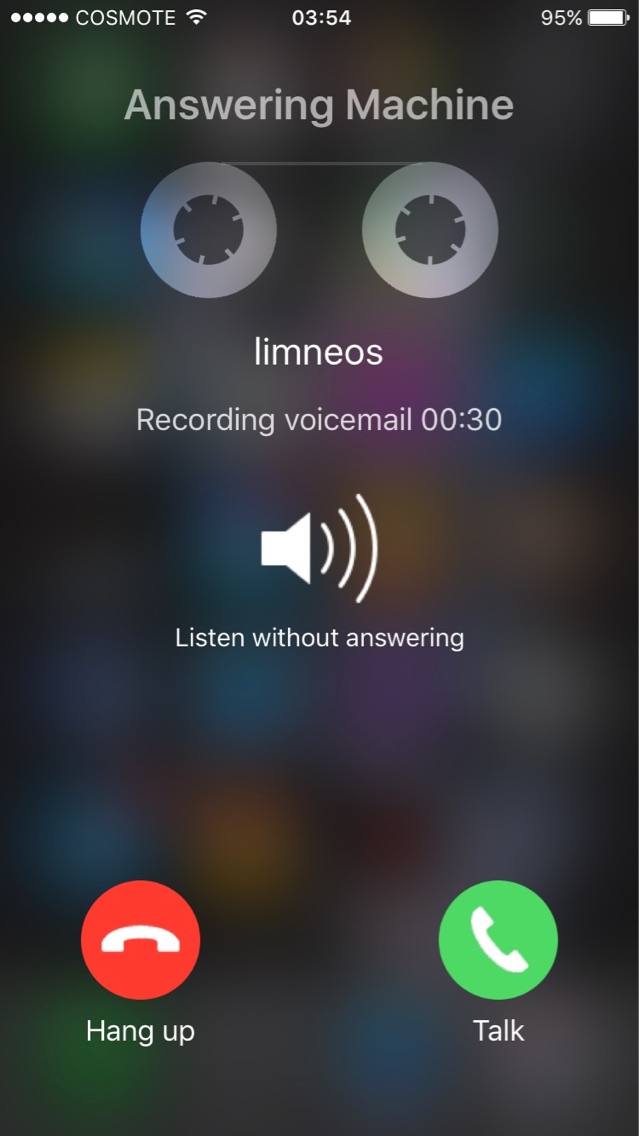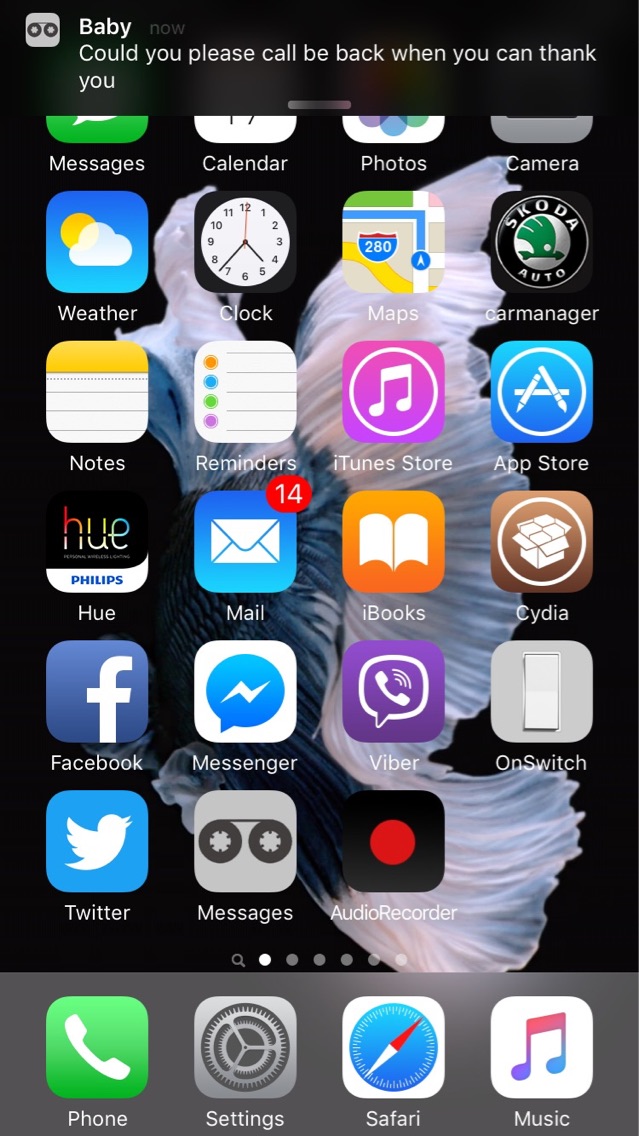 Recent changes
- Made AnsweringMachine beep more subtle
New Features:
- Added option to call contacts from within the application.
- Added live voicemail status indication at lockscreen. Optional.

Fixes:
- Fixed not recognising custom contacts with international number formats.
- Fixed app and settings audio not playing when mute switch is on.
- Fixed AnsweringMachine - handled calls allowing temporarily the ringtone to play while on Do Not Disturb.
- Fixed beep sound quality.
- Fixed AnsweringMachine firing during call waiting
- Fixed incoming calls not being dismissed if AnsweringMachine is disabled or in other cases.
- Fixed random issue requiring a restart or re-install for AnsweringMachine to work on 9.3.3 with semi-tethered jailbreak.
- Fixed AudioRecorder not recording call if it was first answered by AnsweringMachine and then picked-up to talk.
- Fixed issue with failure to download license in some devices.

- Fixed crash if no First Name was assigned to a calling contact.
- Added handling for call waiting.

New Features:
- Added contact number info in Custom Contact Greetings cell.
- Added FirstName variable in Speech Synthesized greetings.

Fixes:
- Fixed CallBar UI errors, outgoing call errors,all call UI hangs.
- Fixed badges not showing when application icon is inside a folder.
- Fixed "To listen to your messages press" localization not working.
- Fixed errors when AnsweringMachine is disabled.
- Fixed calls not appearing missed when AnsweringMachine has answered them. Now all calls handled by AnsweringMachine register as missed.
- Fixed "Record Your Own" greeting delay for custom contacts affecting the default greeting delay.

New features:
- Added Private Number greeting option.
- Added Excluded Contacts option for the default greeting.
- Added localization option for Advanced Commands spoken text. Now all speech texts are localizable.
- Added higher answer delay for all greetings.


Fixes:
- Fixed "Use on Declined Calls" option not working at lockscreen or when CallBar is installed.
- Fixed Do Not Disturb mode not properly respecting allowed contacts.
- Fixed "Record Your Own Greeting" delay slider not appearing in iOS 8.1.x
- Fixed ringtone playing for a short time while in DoNotDisturb.
- Fixed UI blocking issues.
- Fixed Notifications settings menu causing a Settings crash randomly.
- Fixed application's settings link icon disappearing after pressing Edit.
- Fixed private number appearing as (null) in application.
- Disabled Alex voice option since it differs and causes crashes.
- Fixed dynamic "Good Afternoon" greeting using "Good Evening" variable instead.